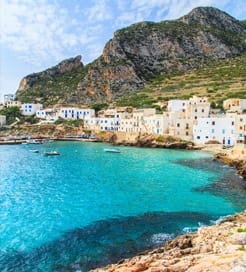 Compare ferries from Aegadian Islands to Italy
There are numerous ferry crossings operating from Aegadian Islands to Italy. Ferries currently connect 3 ports in Aegadian Islands with 0 ports in Italy.

There are a combined number of 31 ferry crossings each day across a selection of 6 Ferry Routes which are operated by 2 ferry companies including Liberty Lines Fast Ferries & Siremar with the shortest crossing taking around 10 minutes (Favignana to Levanzo).

This is a general summary of the services on offer between Aegadian Islands and Italy, for live information select from our Fare Search.
Ferries from Aegadian Islands to Italy
About Aegadian Islands:
The Aegadian Islands or Egadi Islands as they are known locally are an archipelago of small mountainous islands in the Mediterranean Sea, off the Northwest coast of Sicily in Italy covering a total area of around 38 square kilometres.

The Aegadian island group comprises of Favignana (the main island and also the largest and busiest), Levanzo (small and quiet) and Marettimo (the furtherst island from the mainland), as well as the minor islands of Formica and Maraone found between Levanzo and mainland Italy.

This archipelago is a land of wonders and due to a very low population and desirable Mediterranean climate, the Aegadian group is a perfect location for those who love peace and quiet and uncontaminated nature.

With one of the most beautiful sea-beds in the world and an abundance of multi-coloured fauna and flora, the Islands of the Aegadian Island group will no doubt take your breath away.

Getting away from the Aegadian Islands by ferry requires travelling to Sicily or the mainland, depending on time of year.
About Italy:
Italy is a boot-shaped peninsula situated in the Mediterranean Sea at the bottom of Western Europe, with the Tyrrhenian Sea to the West, Ionian Sea to the South and Adriatic Sea to the East.

Italy is the fifth most visited country in the world and contains more World Heritage Sites than any other country. Although Rome, Milan, Venice and Florence are the top tourist destinations in Italy, the country's rich collections of art, culture and literature from many different periods and regions make it impossible to judge on where the most interesting location is.

With around four thousand miles of coastline, with countless gulfs, inlets, and long sandy beaches, Italy is truly adapted to the holiday lovers every need. Coastal cities with their sea resorts and awesome beaches are easily reachable by car with a variety of ferries and vessels large and small ready to sail you there.