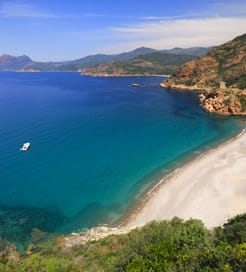 Compare ferries from Corsica to Italy
There are numerous ferry crossings operating from Corsica to Italy. Ferries currently connect 2 ports in Corsica with 4 ports in Italy.

There are a combined number of 51 ferry crossings each week across a selection of 6 Ferry Routes which are operated by 2 ferry companies including Corsica Ferries & Moby Lines with the shortest crossing taking around 2 hours 45 minutes (Bastia to Piombino).

This is a general summary of the services on offer between Corsica and Italy, for live information select from our Fare Search.
Ferries from Corsica to Italy
About Corsica:
Lying west of Italy and southeast of France in the Mediterranean Sea, Corsica is an island with a mix of cultures and one of the most stunning coastlines in Europe.

On Corsica, you'll find all the best things the Mediterranean has to offer: fine cuisine, picturesque beaches, crystalline waters and historic landmarks. You can spend your mornings soaking up the Corsican sun, your afternoons enjoying water sports, then wander through charming hilltop towns at sunset, admiring the medieval citadels along the way.

As an island in the heart of the Mediterranean Sea, Corsica is a great departure point for a large number of European destinations. There are multiple ferry ports along its 1,000-kilometre coastline, making it even easier to sail across to popular holiday destinations including mainland France, Italy and Sardinia.
About Italy:
Italy is a boot-shaped peninsula situated in the Mediterranean Sea at the bottom of Western Europe, with the Tyrrhenian Sea to the West, Ionian Sea to the South and Adriatic Sea to the East.

Italy is the fifth most visited country in the world and contains more World Heritage Sites than any other country. Although Rome, Milan, Venice and Florence are the top tourist destinations in Italy, the country's rich collections of art, culture and literature from many different periods and regions make it impossible to judge on where the most interesting location is.

With around four thousand miles of coastline, with countless gulfs, inlets, and long sandy beaches, Italy is truly adapted to the holiday lovers every need. Coastal cities with their sea resorts and awesome beaches are easily reachable by car with a variety of ferries and vessels large and small ready to sail you there.