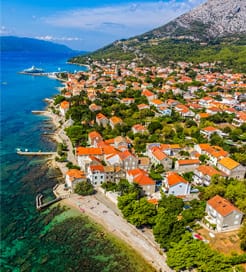 Compare ferries from Croatia to Italy
There are numerous ferry crossings operating from Croatia to Italy. Ferries currently connect 7 ports in Croatia with 5 ports in Italy.

There are a combined number of 22 ferry crossings each week across a selection of 10 Ferry Routes which are operated by 4 ferry companies including SNAV, Jadrolinija, Kompas & Gomo Viaggi with the shortest crossing taking around 2 hours 45 minutes (Rovinj to Venice).

This is a general summary of the services on offer between Croatia and Italy, for live information select from our Fare Search.
Ferries from Croatia to Italy
About Croatia:
The increasingly popular holiday destination of Croatia is located just south-east of central Europe and contains over a thousand islands.

With over one hundred 'Blue Flag' beaches and numerous nature reserves, Croatia is ranked in the top twenty of the most popular tourist destination in the world and welcomes more than ten million tourists to its shores each year.

As with most of the popular holiday destinations in Europe, visitors can expect warm dry summers and mild winters, with more than two thousand five hundred hours of sunlight on average each year.

Croatia is a great point of departure for those wishing to cross the Adriatic Sea to Italy by ferry, especially from the Balkan countries. There are numerous crossings on offer ranging from short high speed passenger only routes sailing to northern Italy to longer more conventional services crossing the sea between the two countries a bit further down the Adriatic.

The seasonal high speed passenger only catamaran crossings are relatively cheap and sail from the coast of Istria to northern Italy.

The conventional passenger and car ferry sailings from Croatia to Italy are operated by numerous ferry companies and generally depart from Split, Dubrovnik and seasonally from the island of Hvar.
About Italy:
Italy is a boot-shaped peninsula situated in the Mediterranean Sea at the bottom of Western Europe, with the Tyrrhenian Sea to the West, Ionian Sea to the South and Adriatic Sea to the East.

Italy is the fifth most visited country in the world and contains more World Heritage Sites than any other country. Although Rome, Milan, Venice and Florence are the top tourist destinations in Italy, the country's rich collections of art, culture and literature from many different periods and regions make it impossible to judge on where the most interesting location is.

With around four thousand miles of coastline, with countless gulfs, inlets, and long sandy beaches, Italy is truly adapted to the holiday lovers every need. Coastal cities with their sea resorts and awesome beaches are easily reachable by car with a variety of ferries and vessels large and small ready to sail you there.