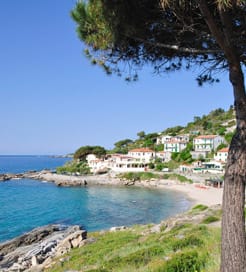 Compare ferries from Elba to Italy
There are 4 ferry routes operating between Elba and Italy offering you combined total of 61 sailings per day. Corsica Ferries operates 1 route, Portoferraio to Piombino which runs 3 times daily. Moby Lines operates 2 routes, Portoferraio to Piombino runs 11 times per day & Cavo to Piombino about 4 times daily. Toremar operates 4 routes, Portoferraio to Piombino runs 21 times per day, Cavo to Piombino about 5 times daily, Rio Marina to Piombino about 8 times daily & Rio Marina to Pianosa about 1 time weekly. Blu Navy operates 1 route, Portoferraio to Piombino which runs 8 times daily.

As the frequency and duration of crossings on some routes varies we would advise that you do a live search for crossings from Elba to Italy to get the most up to date information.
Ferries from Elba to Italy
About Elba:
Elba is the largest island of the Tuscan Archipelago, situated 10 km from the Italian northwest coast.

Known for being the location of Napoleon's exile in 1814, Elba is also famous for its astounding natural beauty, namely its clear blue waters, rugged coastline and pristine beaches.

It also boasts a multi-coloured underwater landscape comprising coral reefs, blue fish, lobsters, starfish and even a sunken ship, making it a haven for divers and snorkelers.

After a day by the seaside, be sure to make your way over to one of the fascinating museums showcasing a range of archaeological findings, or to Napoleon's stunning Villa dei Mulini for an insight into the island's rich history.

As the most visited and popular island in the Tuscan Archipelago, Elba has an extensive ferry network with multiple ports providing crossings to the surrounding islands and the Italian mainland, all operated by a range of leading ferry companies.
About Italy:
Italy is a boot-shaped peninsula situated in the Mediterranean Sea at the bottom of Western Europe, with the Tyrrhenian Sea to the West, Ionian Sea to the South and Adriatic Sea to the East.

Italy is the fifth most visited country in the world and contains more World Heritage Sites than any other country. Although Rome, Milan, Venice and Florence are the top tourist destinations in Italy, the country's rich collections of art, culture and literature from many different periods and regions make it impossible to judge on where the most interesting location is.

With around four thousand miles of coastline, with countless gulfs, inlets, and long sandy beaches, Italy is truly adapted to the holiday lovers every need. Coastal cities with their sea resorts and awesome beaches are easily reachable by car with a variety of ferries and vessels large and small ready to sail you there.