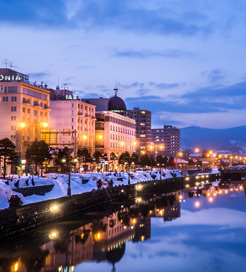 Compare ferries from Hokkaido to Japan
There are numerous ferry crossings operating from Hokkaido to Japan. Ferries currently connect 3 ports in Hokkaido with 5 ports in Japan.

There are a combined number of 43 ferry crossings each week across a selection of 6 Ferry Routes which are operated by 2 ferry companies including MOL Ferry & Shin Nihonkai Ferry with the shortest crossing taking around 12 hours 5 minutes (Tomakomai Higashi to Akita).

This is a general summary of the services on offer between Hokkaido and Japan, for live information select from our Fare Search.
Ferries from Hokkaido to Japan
About Hokkaido:
Hokkaido, formerly known as Ezo, is the second largest island in Japan and the northernmost prefecture.

As it was only settled by the Japanese in the last 100 years, compared to the millennia-old history found in the rest of the country, Hokkaido has both vast areas of unspoilt beauty and large, modern cities.

It claims 20% of Japan's land area but only 5% of its population, which makes Hokkaido a favoured destination amongst hikers, skiers and nature lovers. It has spectacular national parks speckled with hot springs known as 'onsen', dramatic mountains and diverse wildlife, whilst the bustling capital, Sapporo has everything you would expect from a well-developed city.

From the Tomakomai ferry terminal on the south coast, approximately 70 kilometres south of Sapporo on the Hokkaido Expressway, there are frequent crossings to Oarai on the east coast of Ibaraki Prefecture, a town known for its lovely sandy beaches.