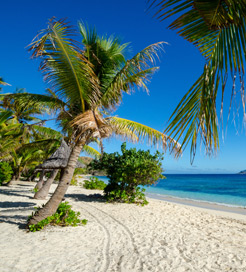 Compare ferries from Mamanuca Islands to Fiji
There is no shortage of options to choose from when it comes to selecting a ferry from Mamanuca Islands to Fiji. There are 2 ferry companies with a combined offering of 12 ferry routes connecting Bounty Island to Denarau, Treasure Island to Denarau, Beachcomber Island to Denarau, Mana Island to Denarau, Tadrai Island to Denarau, Castaway Island to Denarau, Malolo Island to Denarau, Tropica Island to Denarau, Wadigi Island to Denarau, Likuliku Lagoon Resort to Denarau, Tokoriki Island to Denarau & Matamanoa to Denarau.

The fastest route between Mamanuca Islands and Fiji is Denarau with a crossing duration of around 0 hour 45 minute. With so many routes on offer we make it simple by comparing all similar routes in one search so you can quickly find what you are looking for.
Mamanuca Islands Fiji Ferry Map
Ferries from Mamanuca Islands to Fiji
About Mamanuca Islands:
The Mamanucas comprise 20 islands lying to the west of Nadi on the island of Viti Levu, Fiji in the Pacific Ocean.

These incredibly beautiful islands are one of the country's most popular destinations and it's easy to see why. Beneath the crystalline waters lie vibrantly coloured fish and coral reef, above the surface you can ride some of the finest surf breaks in the world, and whilst onshore you can relax on pristine white beaches.

There is an enormous range of both luxury resorts and budget hotels to choose from on the Mamanucas, too, so the archipelago can be enjoyed by all types of traveller.

As popular island destinations, the Mamanucas are well served by ferry, offering a wide selection of routes to the Fijian mainland. Nearly all the islands offer frequent crossings to Denarau, a resort hub boasting lovely beaches and an 18-hole golf course.