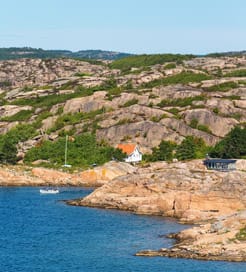 Compare ferries from Sweden to Germany
There are numerous ferry crossings operating from Sweden to Germany. Ferries currently connect 4 ports in Sweden with 3 ports in Germany.

There are a combined number of 84 ferry crossings each week across a selection of 5 Ferry Routes which are operated by 4 ferry companies including Stena Line, TT Line, Finnlines & Hansa Destinations with the shortest crossing taking around 5 hours 45 minutes (Trelleborg to Rostock).

This is a general summary of the services on offer between Sweden and Germany, for live information select from our Fare Search.
Ferries from Sweden to Germany
About Sweden:
Sweden is the largest Nordic country in northern Europe, bordered by Norway to the west and Finland to the east.

A country famed for its stunning landscape, Sweden also has a fast-paced capital in Stockholm, spread across 14 islands connected by 57 bridges, which brings with it a world-leading fashion scene and an immersive historic district.

Further north, you'll find untouched wilderness blanketed by snow, with dramatic mountains in the skyline, dense forest and countless reindeer in front of you and the mesmerising Northern Lights shining above. There are also plenty of beautiful islands and archipelagos dotted in the Baltic Sea.

Sweden is an excellent departure point for a large number of destinations in Scandinavia and northern mainland Europe. With numerous ferry ports on the country's long coast, operated by leading ferry companies, travelling by ferry is the most convenient way to explore Sweden's islands and neighbouring countries.
About Germany:
Germany sits in the heart of Central Europe, spanning from the North and Baltic Seas down to the Bavarian Alps.

Birthplace of Einstein and Beethoven, and inventor of the automobile and MP3 technology, Germany has shaped the world. Today, it has one of the world's largest economies, boasting some of the most unforgettable, diverse landscapes on the continent, too. Upon its tapestry are winding rivers, fairy tale castles and glorious mountain ranges. The capital, Berlin, known for the namesake wall and Brandenburg Gate, is a nightlife hub and haven for the arts, whilst the famous Bavaria region, sitting at the foot of the Alps, attracts beer, sausage and pretzel fans from around the world.

The 2,389-kilometre German coast has multiple ports and ferry terminals. Choose from regular ferry routes, operated by many companies, from Scandinavia across the North Sea and from numerous countries in north-eastern Europe across the Baltic Sea, allowing easy access to Germany's northern cities.