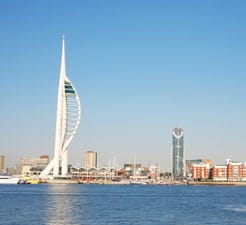 How to book a Ferry to Portsmouth
Use Direct Ferries to compare and book your Ferry to Portsmouth in England to get the best deal.
Not only will you get a ferry price for your chosen sailing but we'll also show you prices for ferries to Portsmouth around your preferred departure time as well as sailings to alternative destinations to ensure you get the best available price for your trip.
All you need to is pick the departure port for your ferry to Portsmouth, select the number of people travelling on this journey and search!
Ferry to Portsmouth Alternatives
Portsmouth Ferry Services