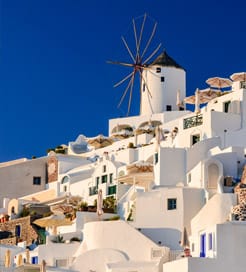 Compare ferries from Aegean Islands to Cyclades Islands
There is no shortage of options to choose from when it comes to selecting a ferry from Aegean Islands to Cyclades Islands. There are 1 ferry company with a combined offering of 14 Ferry Routes connecting Chios to Syros & Mykonos, Evdilos to Mykonos & Syros, Agios Kirikos to Mykonos & Syros, Evdilos to Mykonos & Syros, Fournoi to Mykonos & Syros, Vathi to Mykonos & Syros, Mytilene to Mykonos & Syros, Limnos (Myrina) to Mykonos & Syros & Mytilene to Mykonos & Syros.

The fastest route between Aegean Islands and Cyclades Islands is Agios Kirikos to Mykonos with a crossing duration of around 1 hour 50 minutes. With so many routes on offer we make it simple by comparing all similar routes in one search so you can quickly find what you are looking for.
Ferries from Aegean Islands to Cyclades Islands
About Aegean Islands:
The Aegean Islands are located in the Aegean Sea, between the south and east side of mainland Greece and the west side of Turkey.

The vast area covered by the Aegean Islands includes the Cyclades, the Dodecanese Islands, the North Aegean Islands, the Saronic Islands, Sporades, Crete and the Ionian Islands and Euboea. The island group includes some of the most popular holiday destinations including Crete, Lemnos, Lesbos, Chios, Samos and Rhodes.

The Aegean Islands are often seen as the main characteristic of the Greek culture and tradition. In addition to the obvious appeal of the sun and the sand, visitors are attracted to the traditional villages of whitewashed houses, as well as to the impressive monuments of the great prehistoric civilisation that flourished here.

Ferries are the primary method of travel around the islands and provide a convenient mode of transport to get you in to and around the region.
About Cyclades Islands:
The Cyclades are an archipelago in Greece, southeast of the mainland in the Aegean Sea, containing just thirty three inhabited islands from a total of two hundred and twenty.

Quintessentially Greek, this is arguably the best selection of islands in the Aegean. Standing out from the crowd are Mykonos and Santorini, earning international stardom with their white-washed villages, glistening waters, rugged coastlines and jumping nightlife. Uninhabited, the centrally located Delos is the supposed birthplace of Apollo, boasting intricate mosaics and breath-taking monuments of antiquity. They offer everything you would expect from this beautiful part of the world; so depending on where you step off the ferry, you can hike glorious trails, relax on fine beaches or indulge in fresh, classic Greek dishes.

The demand for ferries in Greece is incredibly high, resulting in top-quality services and frequent sailings to and from many destinations. The Cyclades are no different, with regular ferry routes from numerous islands, within the archipelago, and from ports on the mainland, including Piraeus in Athens.