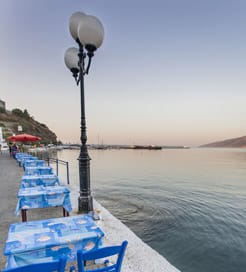 Compare ferries from Ikaria to Dodecanese Islands
There are numerous ferry crossings operating from Ikaria to Dodecanese Islands. Ferries currently connect 1 port in Ikaria with 10 ports in Dodecanese Islands.

There are a combined number of 24 ferry crossings each week across a selection of 10 Ferry Routes which are operated by 2 ferry companies including Dodekanisos Seaways & Hellenic Seaways with the shortest crossing taking around 55 minutes (Agios Kirikos to Patmos).

This is a general summary of the services on offer between Ikaria and Dodecanese Islands, for live information select from our Fare Search.
Ferries from Ikaria to Dodecanese Islands
About Ikaria:
Ikaria is a Greek island in the Aegean Sea, southwest of Samos, approximately 50 kilometres from the Turkish coast.

Ikaria reflects a beautiful balance between nature, freedom and development, having recently been named 'The Best Greek Island for Nature Lovers' by the news television channel, CNN. It also offers large areas of natural beauty, stunning mountainous landscapes, beautiful beaches and friendly locals, providing plenty of activities for everyone.

The island is also, according to legend, the birthplace of Dionysus, the god of wine. So, as you would expect, there are plenty of excellent wineries and picturesque vineyards which are well worth seeing.

Given Ikaria's central location in the Aegean Sea, it is an excellent point of departure for many locations in Greece. From Ikaria's ports on the north and south coasts, there are numerous ferry routes available to the mainland and surrounding islands, so there's a great deal of choice.
About Dodecanese Islands:
The Dodecanese Islands in the Southeastern Aegean Sea is a group of 12 large islands and numerous smaller ones, located close to the West coast of Turkey, in the sunniest corner of Greece.

The islands boast crystal clear waters, sandy or pebbly beaches, Byzantine and medieval monuments and unique traditional settlements. Its historical capital Rhodes not only offers beautiful beaches, its also a magnificent old city full of beautifully preserved medieval treasure.