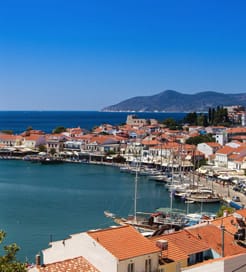 Compare ferries from Samos to Dodecanese Islands
There is no shortage of options to choose from when it comes to selecting a ferry from Samos to Dodecanese Islands. There are 2 ferry companies with a combined offering of 11 Ferry Routes connecting Pythagorio to Agathonisi & Vathi to Patmos, Kos & Rhodes.

The fastest route between Samos and Dodecanese Islands is Pythagorio to Agathonisi with a crossing duration of around 35 minutes. With so many routes on offer we make it simple by comparing all similar routes in one search so you can quickly find what you are looking for.
Ferries from Samos to Dodecanese Islands
About Samos:
Samos is a Greek island in the eastern Aegean Sea, lying just off the west coast of Turkey.

Samos was a particularly rich and powerful city-state in ancient Greece, renowned for its top quality vineyards and for being the birthplace of the famous mathematician, Pythagoras.

Nowadays, it's regarded as one of the most beautiful islands in the Aegean, boasting pure white sandy beaches, picturesque villages and charming fishing harbours. It is also known for producing excellent sweet Muscat wines.

It has a number of fascinating landmarks, too, including the largest temple in the country in the town of Heraion. Another highlight is the Eupalinos aqueduct, an amazing feat of ancient Greek engineering; a tunnel reaching over 1,000 metres long with only a few feet open to the public.

Thanks to the island's location in the Aegean Sea, Samos is a useful departure point for a great number of destinations. It has a few ports along its coastline where you can sail to other Greek islands and the mainland.
About Dodecanese Islands:
The Dodecanese Islands in the Southeastern Aegean Sea is a group of 12 large islands and numerous smaller ones, located close to the West coast of Turkey, in the sunniest corner of Greece.

The islands boast crystal clear waters, sandy or pebbly beaches, Byzantine and medieval monuments and unique traditional settlements. Its historical capital Rhodes not only offers beautiful beaches, its also a magnificent old city full of beautifully preserved medieval treasure.