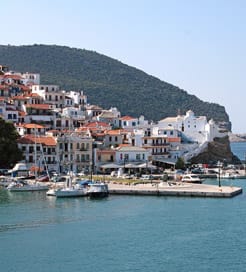 Compare ferries from Skopelos Island to Greece
There are numerous ferry crossings operating from Skopelos Island to Greece. Ferries currently connect 2 ports in Skopelos Island with 2 ports in Greece.

There are a combined number of 34 ferry crossings each day across a selection of 10 Ferry Routes which are operated by 5 ferry companies including Sea Jets, Hellenic Seaways, Golden Star Ferries, Anes Ferries & Aegean Flying Dolphins with the shortest crossing taking around 15 minutes (Glossa (Skopelos) to Skiathos).

This is a general summary of the services on offer between Skopelos Island and Greece, for live information select from our Fare Search.
Ferries from Skopelos Island to Greece
About Skopelos Island:
Skopelos is part of the Northern Sporades island group located in the western Aegean Sea off the coast of Greece.

Regarded as one of the most attractive islands in the country, Skopelos offers a peaceful atmosphere and a landscape comprising lush pine forests, picturesque villages and a craggy coastline. In fact, the island's stunning surroundings and clifftop church of Agios Ioannis Kastri were used in the 2008 film 'Mamma Mia'.

There are many walking trails that take you through the island's green interior, too, where you're likely to spot countless olive trees and plum groves, the fruits of which are commonly found in local dishes.

Skopelos has a couple of ports along its coast situated in Glossa to the northwest and Skopelos Town to the southeast, offering frequent sailings to the surrounding Greek islands and the mainland.
About Greece:
Greece is one of the world's most visited countries. With the Aegean Sea to the East of the mainland, the Ionian Sea to the West, the Mediterranean Sea to the South and a vast number of islands, Greece boasts some 16,000 kilometres of coastline.

Greece is a country rich with diversity, from its mountainous mainland to the stunning islands with their whitewashed houses and blue-domed churches. Many of the Greek beaches have been awarded the Blue Flag, while the country's rich history and legacy has left it with 18 UNESCO World Heritage Sites.

The Greek mainland is easily reached by ferry across the Adriatic Sea from Italy while domestically, due to the sheer number of islands, there are many ferry companies and a range of services on offer. The majority of the domestic ferries are modern, though the class of ferry differs based on the journey type. The longer routes are served by conventional passenger ferries, while the shorter inter island routes are served by high speed catamarans and hydrofoils.