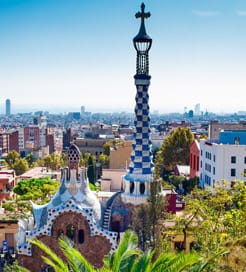 Compare ferries from Spain to Ibiza
There are numerous ferry crossings operating from Spain to Ibiza. Ferries currently connect 3 ports in Spain with 2 ports in Ibiza.

There are a combined number of 81 ferry crossings each day across a selection of 6 Ferry Routes which are operated by 9 ferry companies including Balearia, Trasmediterranea, Grandi Navi Veloci, Trasmapi, Aquabus, Mediterranea Pitiusa, Trasmapi Car, FRS Iberia & Trasmed GLE with the shortest crossing taking around 8 minutes (Formentera to Ibiza).

This is a general summary of the services on offer between Spain and Ibiza, for live information select from our Fare Search.
Ferries from Spain to Ibiza
About Spain:
Spain is a country located on the Iberian Peninsula and bordered by Portugal to the west, France to the north-east and the Mediterranean Sea to the South and East.

The marvellous weather in Spain, its geographic location, beautiful coastlines and varied landscapes have made Spain one of the most popular holiday destinations in the world.

Its capital city Madrid features winding streets all heading to gather in the centre of the city, Barcelona needs no introduction, the Basque country is to the North and then of course there's the sunbathers mecca – the Costa del Sol.

As a country with thousands of miles of coast and numerous island groups such as the Canaries and Balearic's, travelling by ferry is deeply rooted into Spanish culture. Europe's most modern ferries and well-known ferry companies are in operation providing services from Spain to the UK, Italy and North Africa as well as crossing from the mainland to the Canary Islands, the Balearic Islands and numerous inter island connections.
About Ibiza:
Ibiza is part of the Balearic Islands, an autonomous region of Spain sprawled along the mainland's east coast in the Mediterranean Sea.

Around six million revellers flock to Ibiza for its world famous clubs and epic beach parties every year, but its humble population, roughly one hundred and thirty thousand, is always keen to show off the island's quieter side, encompassing beautiful backcountry, historic towns and secluded coves along the north coast. Outside the high-season, the Ibizan calendar brims with fun festivities like the Autumn Food Festival and various patron saint celebrations during winter, made even more enjoyable with the year-round, pleasant climate.

If you're on the east coast of Spain, travelling to Ibiza by ferry is the easiest way to get there, with frequent routes from big cities including Barcelona and Valencia. Sailing within the Balearics is easy, too, with a choice of crossings from Mallorca and Formentera.